This drawing is now CLOSED
We've been waiting for this day for months, it's finally time for BlogFest 2010 to begin!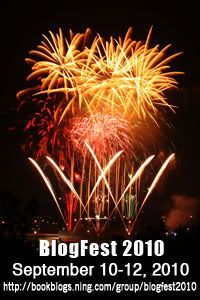 Organized by Cinnamon at
A Journey of Books
, this "blog run" event started this morning and will run until midnight, Sunday, September 12th. Several hundred bloggers are participating and ALL are giving away prizes!!!!
Each blog will be giving something away, including ME! The idea of this BlogFest is to bring additional traffic and awareness to blogs that you may not be familiar with. You can choose to visit one, many or all of the blogs who are playing along. At the end of this post you'll find a link to the next blogger on the list.
(Be sure to enter my giveaway before you hop on outta here!)
You can choose to visit the blogs in order by following those links or you can go to the great Tracking Site that Cinnamon has created
HERE
. It will help you keep track of those sites you've visited and where you would like to go next. The BONUS is that each time you track one of the blogs through that site, you will be entered in a mega drawing that is full of lots of great prizes. ~This is in addition to the prizes each blogger is offering on their site!
So, onto my drawing. I'm having a doggie theme this weekend. My prize is for two books:
Smells Like Dog
and
One lucky winner will win BOTH of these lovely books. To enter the drawing, you must be a follower of MoonCat Farms and you must leave a comment telling me how many dogs you have, if any. This giveaway is open to ALL, so my International friends are encouraged to enter! Please be sure to leave me a way to contact you if you're the winner. I'll use Mr. Random # Generator to pick the winner and they will then have 48 hours to respond before I have to choose an alternate winner.
Good luck and have fun on this fabulous BlogFest ~ be sure to go here:
A Journey of Books